An acetal functional group is a geminal diether is produced from a reaction between a carbonyl and two equivalents of alcohol. A hemiacetal is very similar to an acetal structurally but has a hydroxyl group in place of one of the ethers. Acetals are often used as protecting groups for carbonyl groups.
Quick note: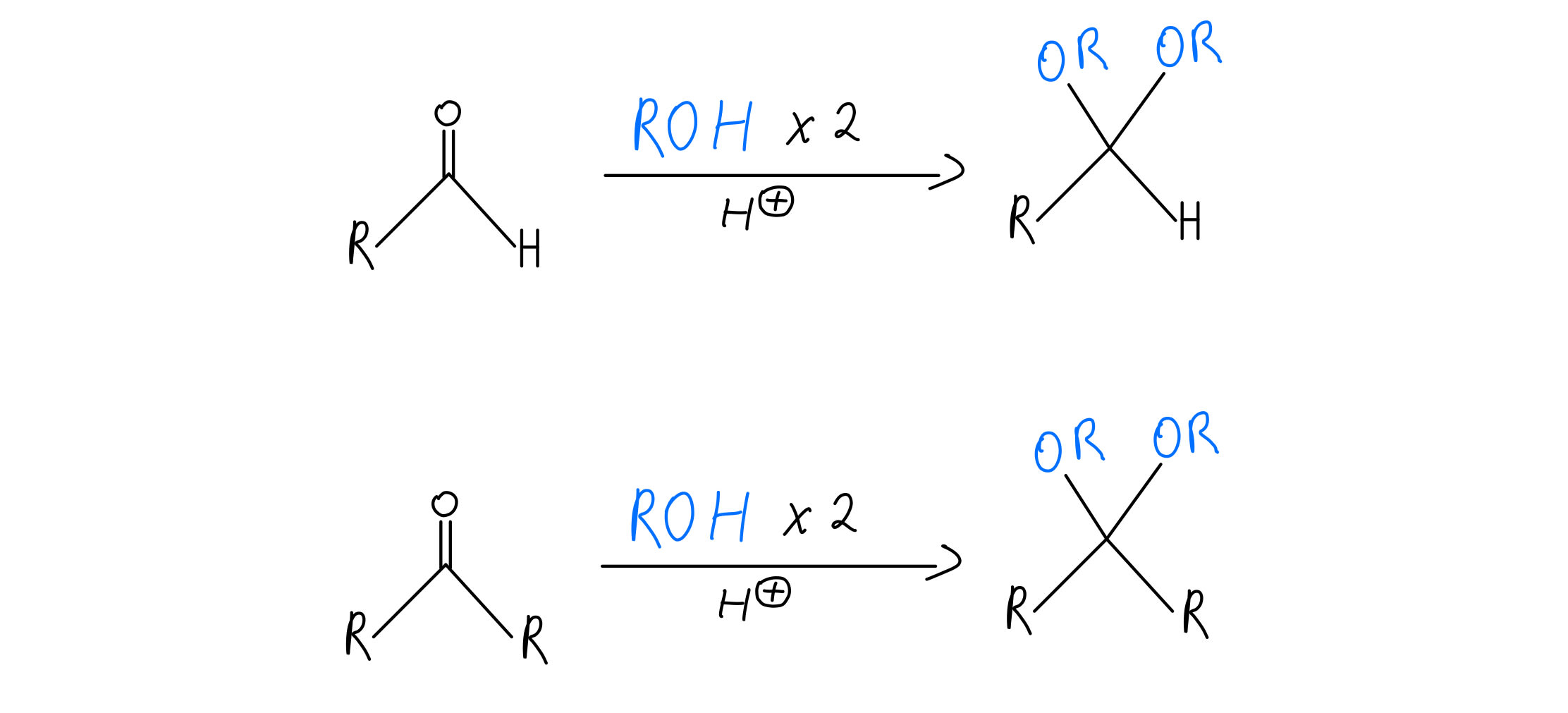 Acetals vs ketals
Technically, there's a difference between acetals and ketals. Aldehydes yield hemiacetals and acetals, and ketones yield hemiketals and ketals. From here on, though, we're just going to refer to them collectively as acetals.
Identifying hydrates, hemiacetals, and acetals:
All three are very similar as they all have a central carbon and two groups with oxygen, either as an alcohol or an ether. A hydrate's oxygen-containing groups are both alcohols, a hemiacetal's oxygen-containing groups are one alcohol and one ether, and an acetal's oxygen-containing groups are both ethers. Check it out:

Hydrate, hemiacetal, and acetal
In acetals, the two R groups can be equivalent to each other (a "symmetric acetal") or not (a "mixed acetal"). Mixed acetals form when the solution has more than one type of alcohol.
Formation of hemiacetals:
Heads up: hemiacetals can be formed in acid or base, but acetals can only be formed in acid. Let's take a look at the mechanism to produce a hemiacetal from formaldehyde in acid: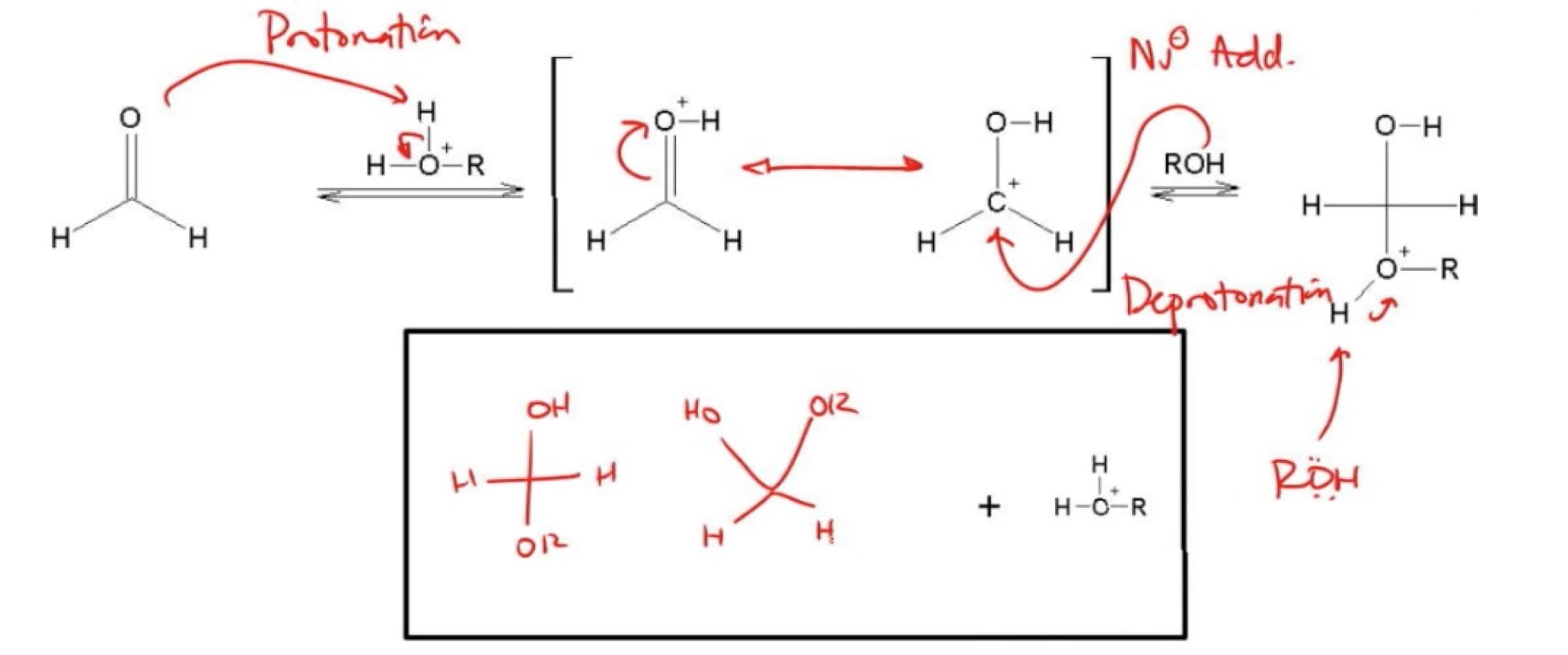 Hemiacetal mechanism
The very first step is the protonation of the oxygen to make the carbonyl carbon more electrophilic. Once that's done, the alcohol in solution attacks the carbonyl. This kicks the electrons in the carbonyl's pi-bond up to the protonated oxygen to create an alcohol. Water or alcohol from the solution then deprotonates the positively charged oxygen to create an ether.
The acetal formation mechanism is extremely similar; in fact, it's the same exact thing but starting from the hemiacetal. In other words, the acetal mechanism is the addition of alcohol and elimination of water twice. All hydrates, hemiacetals, and acetals are all susceptible to reversal through hydrolysis.
Cyclic acetals:
Cyclic acetals are formed when the two equivalents of alcohol are found on the same molecule. A great example of this is 1,2-ethanediol. The mechanism is almost identical to that of acetal synthesis; the only difference is that the other alcohol on the same alcohol performs the second nucleophilic addition.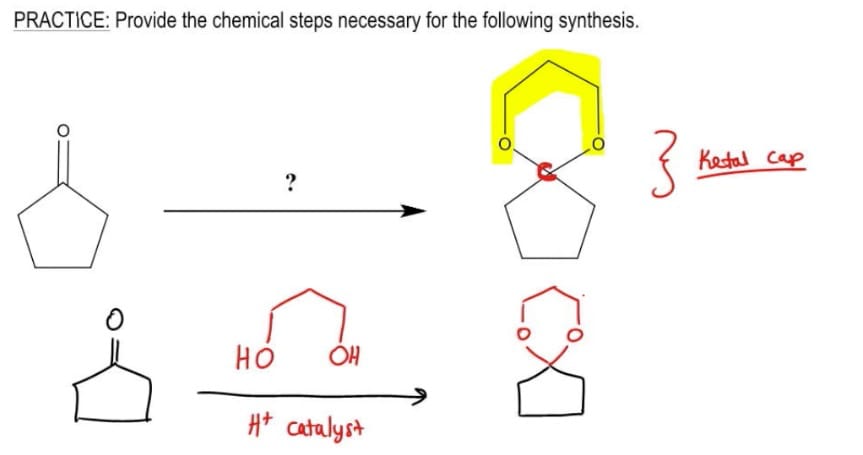 Cyclic acetal